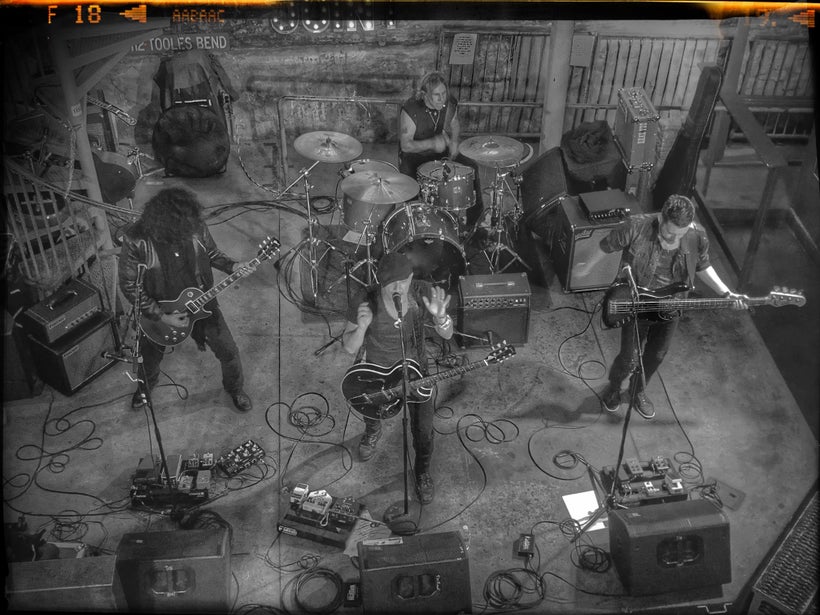 Dixie Horsepower's straight ahead, no-holds-barred, unapologetic, rock and roll is something almost everyone can get behind and their new self-titled EP is exactly what you want to hear when you're behind the wheel. As soon as you press play, the road opens up. Just listen to the first song "Full Tank" and you'll know exactly what I am talking about.
Driving seems to be a common theme on this album, and I don't mean only in content. The guitars and rhythm section are driving. The mood is driving. Dixie Horsepower is balls to the wall good ol' driving rock & roll, and while the band might be new, the members are veteran rock 'n rollers who have paid their dues playing in some of the biggest bands and with some of the biggest artists of the last several decades.
Dixie Horsepower takes off with an intense start and keeps up the pace till the end with heavy guitars and melodic metal pop vocals from frontman Kevin Lawson. Lawson performed with multiple, award-winning, Atlanta-based bands throughout the '90s, including 3 Lost Souls and Supermatic, before moving to Nashville in the early '00s to focus on songwriting. Lawson is a master vocalist, a skill which is highlighted on songs like "Round and Round," with a vocal range that is comparable to many of the greats of the past. He brings not only the element of metal, but the element of soul to this album.
Drummer Troy Luccketta is an original member of Tesla, and has sold more than 14 million records in the US alone. Bassist Luis Espaillat was a member of Hot Action Cop and has recorded and performed with a vast range of artists, in multiple genres, including Trace Adkins and Tantric. The band's guitarist, Gaurav Bali, toured the country with his band Eve to Adam and has co-written chart topping hits.
The songs on this EP were recorded years ago, each one at a completely different time and in some cases different studios. The idea started as a writing project that eventually turned into a band. It took 8 years till they finally got everyone in the room at the same time and agreed to remix and master and then in some fashion release the songs.
Dixie Horsepower is not JUST metal — it is filled with a variety of different musical facets. Take "Good to Go," the third song on the EP — it has a definite radio-friendly pop vibe while still keeping it's "ca-hones." This album feels as if the band dove in fully and drowned themselves in rock and roll goodness, sexuality and even turmoil, and let the two-headed beast they created take over.
While each of the members of Dixie Horsepower has had distinguished careers in their own right, since joining forces, the four have put the pedal to the metal, revved the engine, and are raring to go. Coming right out of the starting gate, Dixie Horsepower has released an EP that sets itself apart from everyone else in the race. The perfect driving music for riding in the fast lane, this unabashed, rock EP is what you put on when you want to turn on, turn up, and go full throttle.